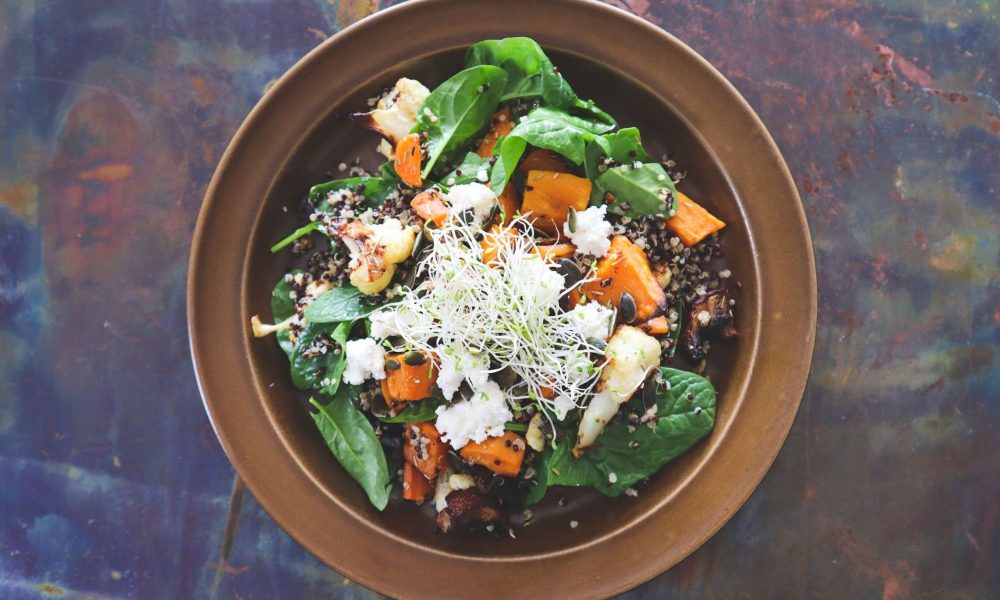 This is one of my go-to weekday meals. I make a whole lot so that I have a couple of healthy lunches leftover too. Feel free to experiment with different vegetables and toppings!
Approx 1 kg of a variety of
vegetables (i.e sweet potato,
beetroot, parsnip, carrots)
2 tbsp olive oil
1/2 tbsp dried timian or rosemary
Salt & Pepper
To serve:
Leafy greens
Quinoa
Feta cheese
Toasted pumpkin seeds
Preheat the oven to 190℃ fan assist.
Chop veggies into similar sized pieces, approx 1×1 inch. Add to a large ovenproof dish or baking tray covered with parchment paper. Veg should not overlap too much to allow even roasting.
Drizzle with oil, add seasoning of your choice, a couple of pinches of salt and ground pepper.
Let roast in the oven for around 40-50 minutes, stirring half-way through.
Meanwhile, cook the quinoa or other grain (i.e.bulgar wheat, couscous, brown rice) as per instructions on the packet.
When vegetables are done, let them cool slightly and then mix together with leafy greens, quinoa, and top with crumbled feta cheese, toasted pumpkin seeds and sprouts. I like to drizzle mine with balsamic vinegar or high quality pesto.